Many iPhone 14 Pro and Pro Max users are complaining on social media about horizontal lines appearing on the display after powering on their devices. The iPhone 14 Pro and Pro Max are Apple's latest flagship smartphones, launched at the company's 'Far Out' event in September 2022. They were unveiled along with the vanilla iPhone 14 models, a new iPhone SE, an upgraded Apple Watch, and the new Apple Watch Ultra. While more expensive, the iPhone 14 Pro and Pro Max are in higher demand because of innovative features like Dynamic Island and high-end hardware that make them stand out from the vanilla models.
Users are taking to Reddit and Twitter to complain about their iPhone 14 Pro and Pro Max units showing green and yellow horizontal lines across the display whenever the device restarts or wakes from sleep. Some users say the glitch doesn't happen every time. One Redditor said that after taking their iPhone 14 Pro Max to the Apple service center, the technician mentioned that it could be a software issue, not a hardware problem. The issue persisted after performing a factory reset and did not go away after updating the device to iOS 16.2.
Related: How To Hide Wallpaper & Notifications On iPhone 14 Pro's Always-On Display
iPhone 14 Pro Display Glitch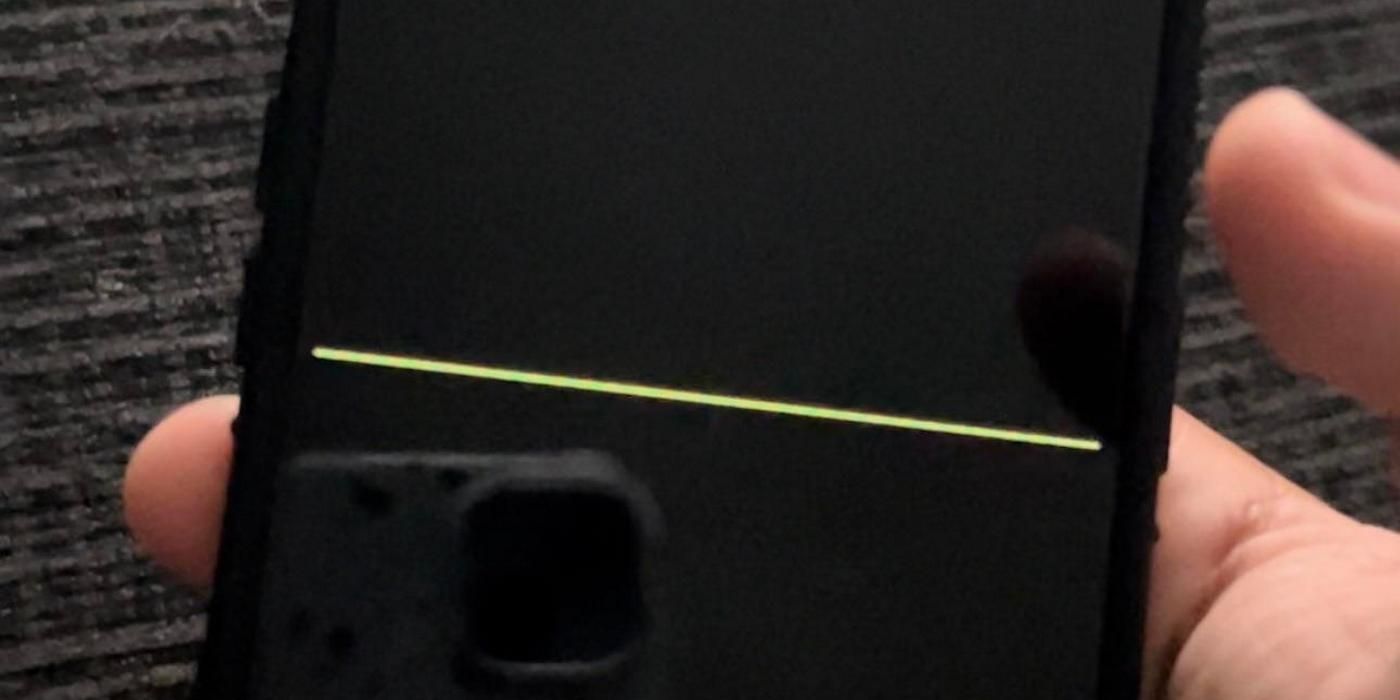 Apple is aware of the issue, and the company's official support account on Twitter is asking affected users for more information about the problem and what version of iOS their devices are running. Answering one Twitter user who said that their iPhone 14 Pro Max was suffering from the same glitch, @AppleSupport said, "…let us know if you're seeing multiple horizontal lines, along with the iOS version (of your device)…." The user said that their device is currently running iOS 16.2, but the issue was also present in the previous version.
Another Redditor said that an Apple Support technician mentioned that Apple was aware of the problem and is already looking into it. They were also told that the glitch was due to a faulty driver and not lousy hardware, which must be music to the ears of affected users. Apple is said to be working on an update to fix the issue, which will likely be rolled out soon.
This is not the first significant issue affecting the iPhone 14 Pro and iPhone 14 Pro Max. Days after their launch, the internet was abuzz with reports that the lenses of the 48MP primary camera were physically shaking when using third-party apps like Snapchat, TikTok, and Instagram, resulting in blurry images and videos. Apple eventually fixed that issue on the iPhone 14 Pro and Pro Max with a software update a few weeks later.
More: Does The iPhone 14 Pro Have The Brightest Smartphone Display?
Source: u/1LastOutlaw/Reddit, @thandavaTK/Twitter, Apple Support/Twitter