"Thow Holiday Presents at different named locations 0/3" is an event-exclusive Winterfest Quest in Fortnite Chapter 4: Season 1 that requires players to find unique Throwable Items known as the Holiday Presents. Completing this challenge will reward participants with 16,000 XP, which is a generous amount, considering how simple the task is. However, finding Holiday Presents is easier said than done, as their Legendary Rarity generally makes them harder to discover, compared with other Throwable Items, like Slurp Juice or Shield Potions.
As the objective suggests, once players have found a Holiday Present, they must travel to three of the nine named locations on Fortnite's map and throw the present on the floor or ground. For reference, visiting Breakwater Bay, The Citadel, Anvil Square, Shattered Slabs, Frenzy Fields, Faulty Splits, Slappy Shores, Brutal Bastion, or Lonely Labs and throwing down a Holiday Present will progress players toward the Winterfest Quest's completion. Keep in mind that this feat does not need to be performed within one match. If players cannot find any presents during one game, they can continue advancing their progress by getting a gift during subsequent matches.
Related: All Oathbound Chest Locations in Fortnite Chapter 4 Season 1
How To Use Holiday Presents in Fortnite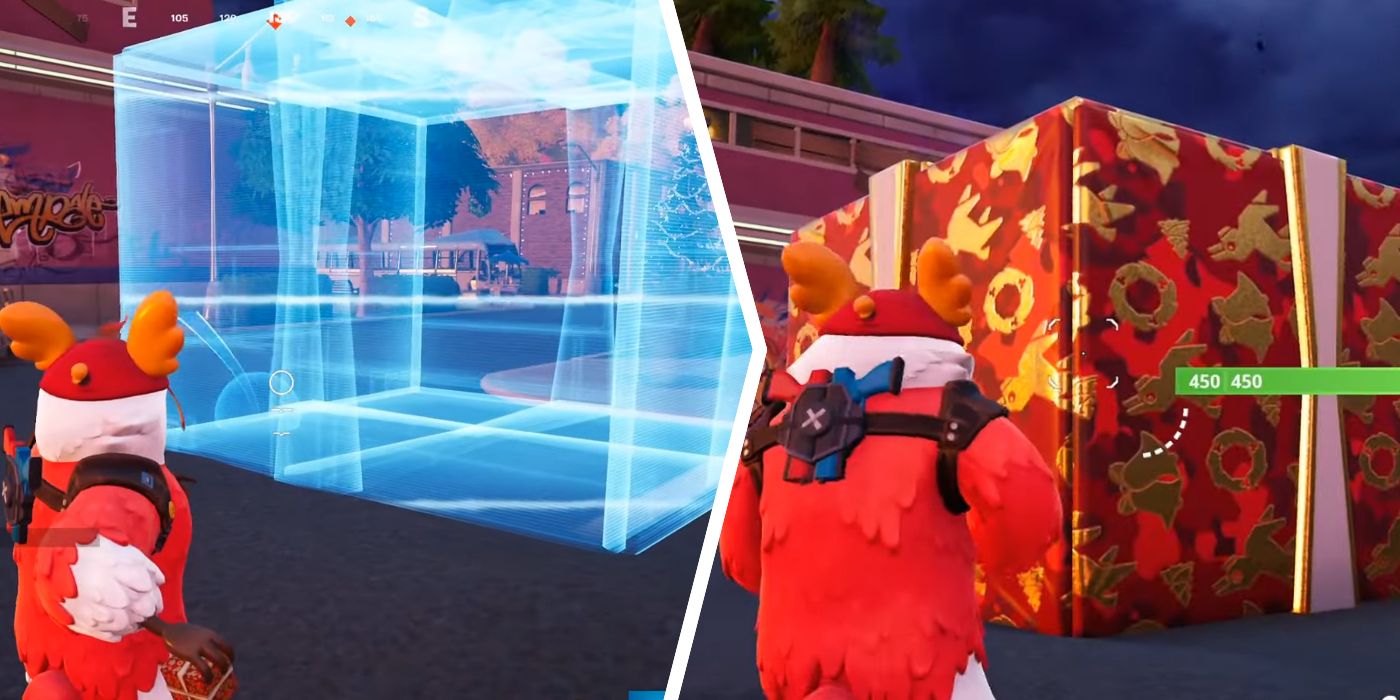 As noted above, Holiday Presents can be challenging to find, as their spawn rate is relatively low in Fortnite Chapter 4: Season 1. However, if players are searching through chests, supply drops, or fishing holes, they are looking in the wrong places. According to YouTube content creator Kanga, Holiday Presents only appear as Fortnite Chapter 4's Floor Loot and stand out among other items, thanks to their golden-orange glow. In other words, searching at Floor Loot spawns should be the core objective when attempting to complete this Winterfest Quest in Fortnite Chapter 4: Season 1.
If players are lucky, they will find Holiday Presents to complete their Fortnite quest. However, it is important to note that these Throwable Items are extensively more valuable than a means to completing an objective. For instance, Sportskeeda states that combatants can use Holiday Presents to spawn instant protection from incoming fire. The massive boxes that Holiday Presents produce can also serve as a stepping stool to reach high, elevated areas, like the tops of buildings or spires. Players should also not forget that Holiday Presents generate free loot, which can potentially include Epic and Legendary weaponry in Fortnite with which to take down their opponents. To summarize, Holiday Presents are powerful tools for defensive and offensive strategies in combat that Fortnite fans should not overlook.
More: Fortnite: How To Make A Snowball
Source: YouTube/Kanga | Sportskeeda
Original Release Date:

2017-07-21

Genre:

Action, War

ESRB:

T