A new Dungeons & Dragons: Honor Among Thieves image shows the movie's adventuring party confronting a looming danger. The new Dungeons & Dragons movie is the fourth feature film adaptation of the fantasy tabletop role-playing game after the rather unsuccessful trilogy released from 2000 to 2012. The new movie features a star-studded cast that includes Star Trek's Chris Pine, the Fast and Furious franchise's Michelle Rodriguez, Bridgerton's Regé-Jean Page, Jurassic World: Fallen Kingdom's Justice Smith, It's Sophia Lillis, Hugh Grant, Chloe Coleman, Jason Wong, and Daisy Head.
A new look at the upcoming Dungeons & Dragons movie was recently revealed as part of Entertainment Weekly's exclusive 2023 preview. The Dungeons & Dragons: Honor Among Thieves image shows the movie's main adventuring party – including Pine's Edgin the Bard, Rodriguez's Holga the Barbarian, Page's Xenk the Paladin, Smith's Simon the Sorcerer, and Lillis as Doric the Druid – standing amongst a pile of bones as they confront an unseen danger. See the new image below:
Related: What The Dungeons & Dragons Movie Could Learn From Stranger Things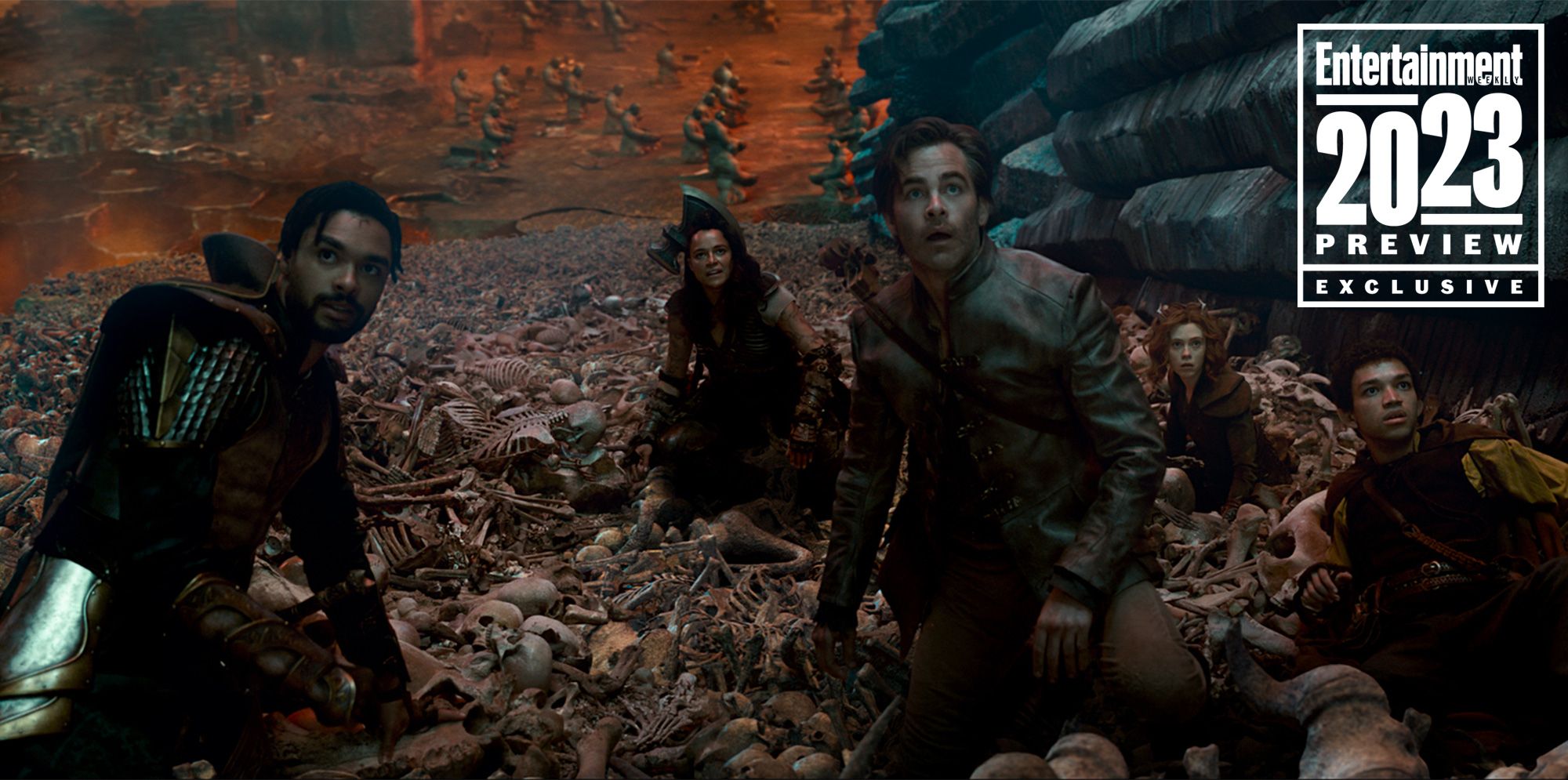 What D&D Monsters Will Appear In Honor Among Thieves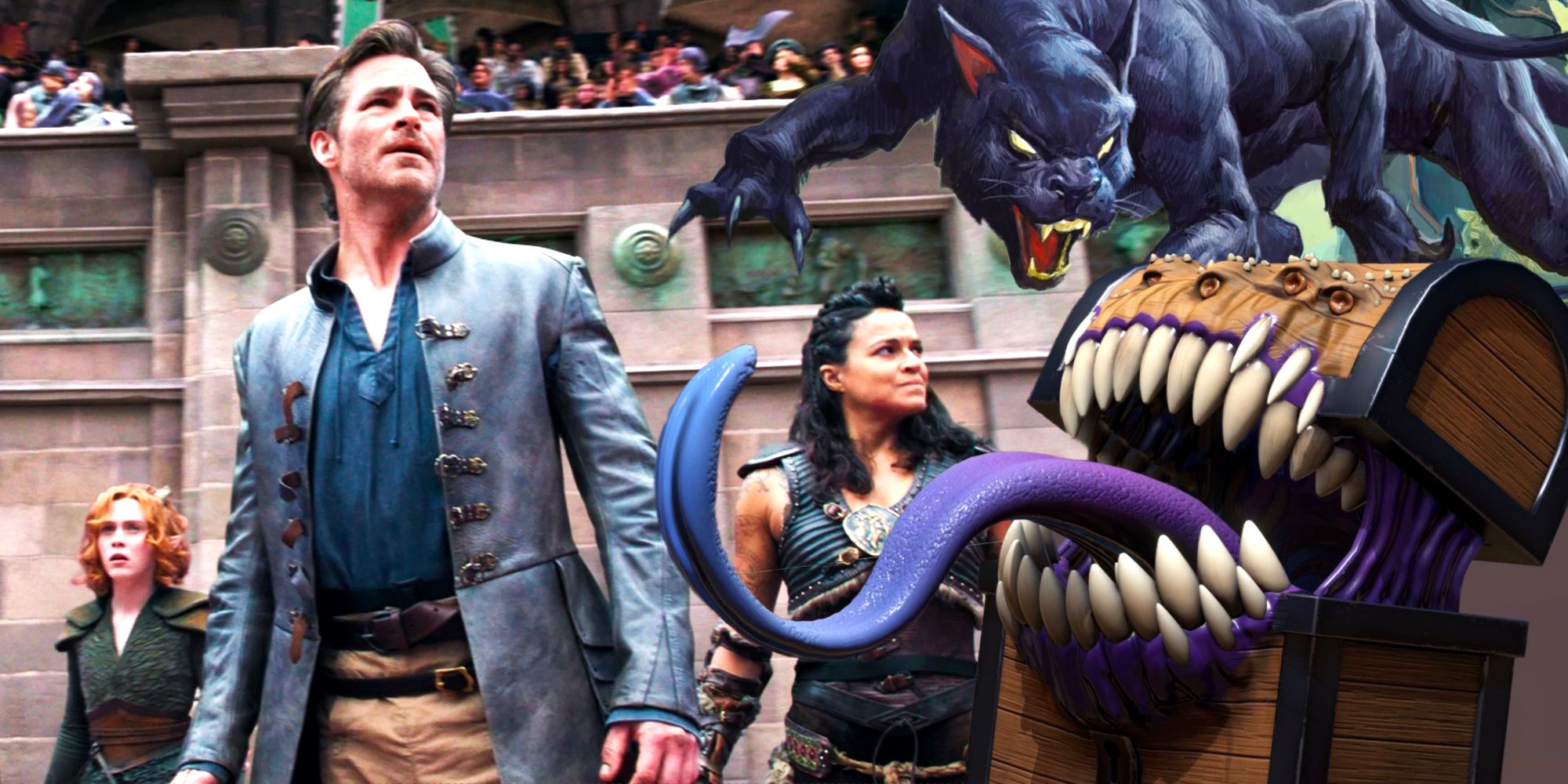 Dungeons & Dragons: Honor Among Thieves, which was written and directed by Game Night's Jonathan Goldstein and John Francis Daley, follows this band of unlikely adventurers as they embark on an epic quest to uncover an ancient artifact. Though Hugh Grant is playing Forge Fitzwilliam the Rogue, the movie's main antagonist, this band of adventurers will likely encounter various other threats along their quest. At the current time, there are a few Dungeons & Dragons monsters confirmed to appear in the upcoming movie.
It can safely be assumed that the titular monsters will be appearing in the movie, three different types of which were revealed in the Dungeons & Dragons: Honor Among Thieves trailer, including the acid-breathing black dragon, the fire-breathing red dragon, and the ice-breathing white dragon. The first footage also revealed the displacer beast, a large cat-like creature, as well as mimic, a shape-shifter that generally takes on the form of a treasure chest to trick unwary players. A more recent Dungeons & Dragons: Honor Among Thieves behind-the-scenes featurette even showed off more of the film's antagonist, the Red Wizard of Thay, and Lillis' tiefling Druid, Doric, transforming into an Owl Bear.
Dungeons & Dragons: Honor Among Thieves is set in the Forgotten Realms campaign setting, which may provide some additional hints for what monsters may show up in the movie. Judging by the new image, it looks like the adventuring party will run into some formidable threats based on the pile of bones beneath them. Only time will tell what danger lies ahead as Dungeons & Dragons: Honor Among Thieves releases in theaters next year on March 31.
More: Dungeons & Dragons' Comedy Avoids The Biggest LOTR ProblemSource: EW