Warning: SPOILERS for Catwoman #50It's official: Catwoman has a brand new sidekick, and he has the perfect name. The milestone issue Catwoman #50 sees the debut of the newly-dubbed Tomcat, and he's the perfect addition to Selina Kyle's team.
Tomcat appears in costume for the first time in Catwoman #50 by Tini Howard, Inaki Miranda, Nico Leon, Juan Ferreyra, Veronica Gandini, Lee Loughridge, Deron Bennett, and Lucas Gattoni. Also known as Dario Tomasso, he takes the field during Catwoman's attack on Punchline and her gang. Wearing a camoflauge suit and a black mask while gripping two tazer-like weapons, he declares "out here, call me Tomcat." Also of note are his bulletproof vest and small cross-and-chain.
Related: Batman Explains the Badass Real Meaning of 'Batman & Robin'
Tomcat Is Catwoman's Perfect Sidekick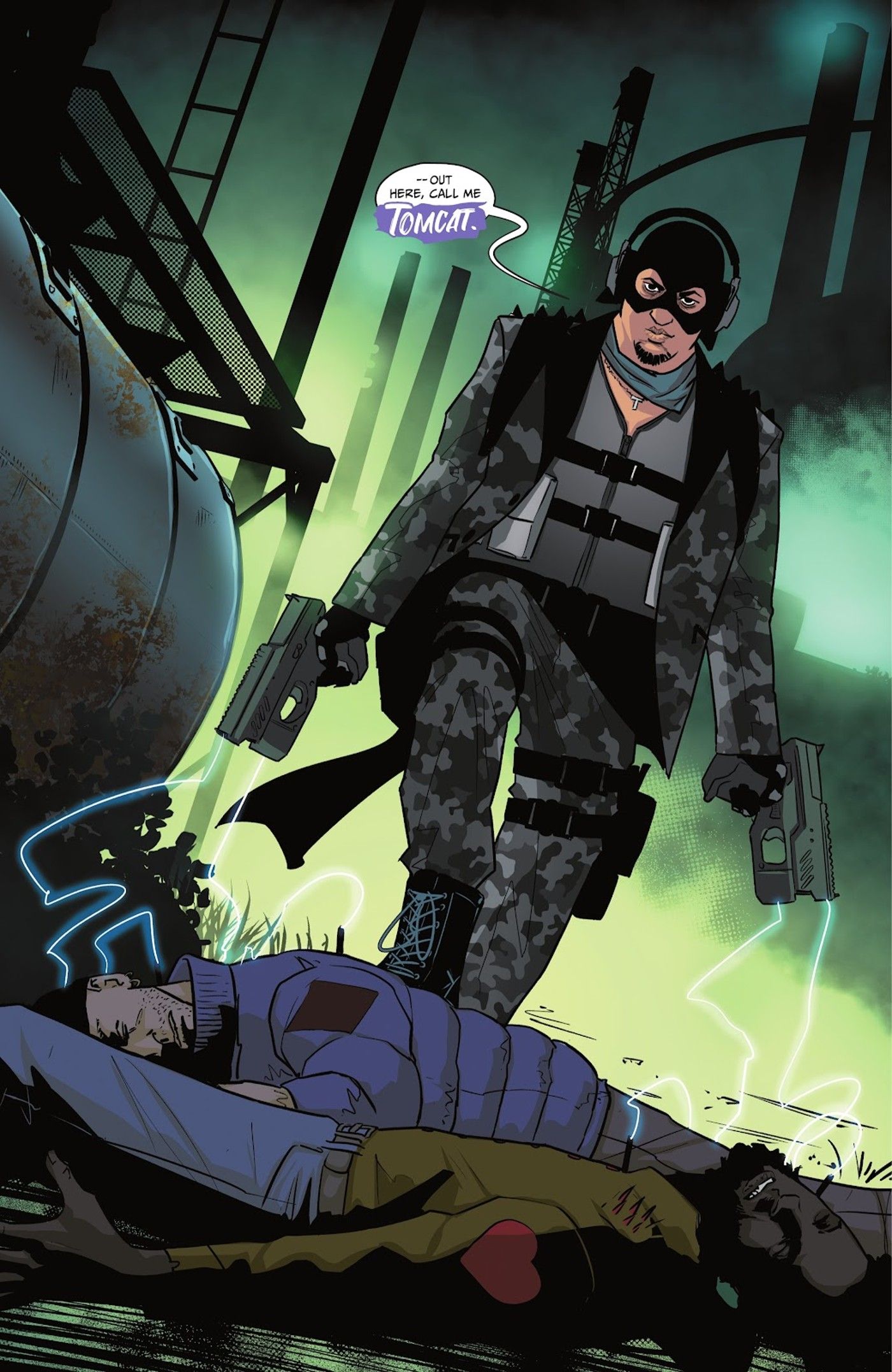 Though this is Tomcat's first appearance in costume, Dario has been a regular co-star in the current Catwoman run helmed by writer Tini Howard. Catwoman is currently trying her best to control Gotham's mob families by any means necessary, which is how she meets Dario. The son of mob boss Tomasso, Dario was ousted from the family and taken in by Catwoman when he was betrayed by his best friend—and secret boyfriend. Dario's open queerness makes him an outcast in the Italian Catholic mob, but just the kind of stray Selina Kyle loves to take in (and use against her enemies).
But Dario is more than happy to be used as a weapon against his cruel and criminal family, and that's never been clearer than in his debut as Tomcat. Prior to this issue, Dario has been less of a sidekick and more of a victim, often needing Catwoman to save him from his family and other dangers. Declaring himself "Tomcat" is a triumphant moment for Dario, and simply a perfect name for him, especially as an ally to his friend Catwoman. And Tomcat promises to make regular appearances, especially as a technological expert behind the scenes: Selina Kyle has been arrested, and he and her other allies need to step up to protect their corner of Gotham City.
Dario will certainly do that protecting with style and humor, just as Catwoman readers have come to expect. Tomcat is the perfect addition to Selina's cast of allies, and he fits in alongside the likes of Valmont, Onyx, and even Batman—all of whom also appear in this issue. He and the new Catwoman, Eiko Hasigawa, will make an unlikely pair in Selina's absence, but that won't stop Dario from doing what's right—especially as the newest hero in Gotham, Tomcat.
Next: Batman's True Legacy Isn't Robin, It's Batgirl
Check out Catwoman #50, available now from DC Comics!